"What the hell was that?"
―Hevy after watching an eel eat Cutup
The Rishi eel was a predator native to the Rishi moon. They dwelt in caves of the moon's canyons and had a mouth with four mandibles. They were one of several species of eel in the galaxy.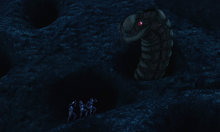 During the Clone Wars, a Rishi eel killed and ate the clone trooper rookie known as Cutup. An eel, possibly the same one that ate Cutup, was shot and killed instantly by Captain Rex, after receiving an expertly aimed shot through its eye and into its brain. He then marked the "shiny" armor of Echo with the animal's blue blood. Since Rishi eel blood was almost impossible to remove, the marking became permanently emblazoned on the rookie's armor. Later on during the Clone Wars, ARC Trooper Fives had a Rishi eel design on the top of his helmet as a tribute to Cutup.
Appearances
Edit
Ad blocker interference detected!
Wikia is a free-to-use site that makes money from advertising. We have a modified experience for viewers using ad blockers

Wikia is not accessible if you've made further modifications. Remove the custom ad blocker rule(s) and the page will load as expected.