"Rod" was the nickname of a clone trooper pilot in the Grand Army of the Republic during the Clone Wars.
Biography
Edit
In 22 BBY, Rod participated in the Battle of Malastare during the Clone Wars. During the battle, he was the clone turret gunner of Goji's BTL-B Y-wing starfighter. His bomber dropped the electro-proton bomb that deactivated the droid army and awakened the Zillo Beast.
Equipment
Edit
Rod's Phase I clone trooper pilot helmet was custom painted with two winged creatures, one on each side of the helmet, displayed with wings spread in flight.
Behind the scenes
Edit
Rod was named for classic Japanese film monster Rodan. [1]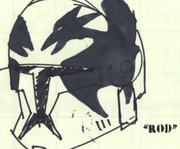 Appearances
Edit
Notes and references
Edit
External links
Edit
Ad blocker interference detected!
Wikia is a free-to-use site that makes money from advertising. We have a modified experience for viewers using ad blockers

Wikia is not accessible if you've made further modifications. Remove the custom ad blocker rule(s) and the page will load as expected.