"Palpatine was a pragmatist. As am I."
―Roganda Ismaren
Roganda Ismaren was a Human female from Alderaan, a former Jedi Initiate who had escaped the Great Jedi Purge. In 18 BBY, she and several other younglings were smuggled to Plett's Well on the planet Belsavis, under the guidance of Jedi Master Plett. However, their refuge was discovered by Emperor Palpatine, who sent the dreadnaught Eye of Palpatine to wipe out the Jedi. Although the weapon was disabled, Roganda was captured by Imperial Inquisitors during the evacuation of Belsavis. Taken to Imperial Center, Roganda integrated herself into Imperial society, growing into a beautiful woman. Using her good looks and Force-sensitivity, Roganda was able to infiltrate the exclusive Imperial Court, eventually becoming one of the Emperor's concubines. During her time as Palpatine's consort, she began an affair with another court member, Sarcev Quest. When she became pregnant, Roganda submitted herself to the Emperor's mercy, becoming an Emperor's Hand and training in the dark side of the Force. In 4 BBY, Roganda gave birth to her son, Irek Ismaren, and began to train him as a possible heir to the Emperor. However, upon Palpatine's death in 4 ABY, Roganda did not have the necessary support to make a play for the throne. She retreated back to Belsavis and began to train her son for a future attempt to take control of the Empire.
By 12 ABY, Roganda had formulated a plan to reunite the fragment of the Empire. Her son, who had been implanted with a subelectronic converter, used this device to summon the disabled Eye of Palpatine to Belsavis. With the promise of the warship at her command, she made overtures to various nobles in the Senex and Juvex sectors to gain backing for her son as the new Emperor. However, when the ship arrived above Belsavis, Irek found that he could not control it, and the plot fell apart. Roganda and her son made their way back to Coruscant, where she continued Irek's training, recruiting Lord Cronal to train her son. However, in an argument with his teacher, Irek was stabbed through the head with a lightsaber, rendering him brain-dead. Devastated, Roganda refused to accept the loss of her boy, placing him in suspended animation and trying to repair his brain with cybernetics. She also augmented him to become the most powerful darksider imaginable, installing lightsabers in his wrists, elbows, and knees and using growth hormones to increase his size to three meters in height. In an attempt to bring back Irek's mental faculties, she prepared operational programming and prefabricated memories to install into his destroyed brain. However, before this could be implemented, a groundquake awakened Irek from stasis. Driven only by a mindless need to destroy, he used the lightsabers installed into his body to cut his mother to pieces, ending her life.
Biography
Edit
Early life
Edit
"If I'd followed the strictest traditions of my family I'd have been destroyed, as they and my older brother Lagan were destroyed. As it was, I adapted those traditions."
―Roganda Ismaren, to Leia Organa Solo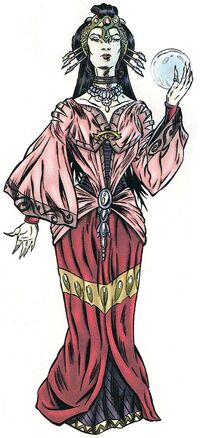 Roganda Ismaren originally hailed from the Core World of Alderaan.[1] Roganda and her brother Lagan were the offspring of members of the Jedi Order.[10] Roganda had been trained in the Jedi Temple until the rise of the Galactic Empire and the onset of the Great Jedi Purge.[8] To escape the purge, Roganda, her brother, and her parents were taken to the world of Belsavis and hidden in Plett's Well, a village founded by the Ho'Din Jedi Master Plett as a refuge against the newly founded Empire.[10] While there, Roganda continued her training under Master Plett, developing her Jedi powers.[11] As members of the "Children of the Jedi," Roganda and Lagan hid from Imperial agents[10] until 18 BBY,[12][13] when the Jedi refuge was discovered. Galactic Emperor Palpatine sent a colossal asteroid shaped dreadnaught, the Eye of Palpatine, alongside a fighter wing escort[14] of TIE Fighters,[15] to Belsavis to wipe out the refugees. Although two Jedi, Callista Masana and Geith Eris disabled the weapon, [16] the TIE fighters attacked Plett's House and the refuge hidden under it, causing minor damage.[15] With the Eye of Palpatine out of commission, the Jedi were able to defeat the fighter wing, but since the Empire now knew their location, Plett and the Children of the Jedi were forced to abandon their home.[14] In the chaos of the evacuation from Belsavis, Roganda and Lagan were kidnapped by Imperials, stolen away from their parents.[6] The siblings were presented to the Imperial Inquisitor Ameesa Darys who executed Lagan, forcing Roganda to watch. Traumatized by the death of her brother, she resolved to gain enough power that she would never be subject to the same fate as her sibling.[9][17] Roganda was able to use her fledgling Force powers to escape the Inquisitors and integrate herself into the Empire.[4]
When Roganda came of age, she developed into a beautiful woman and quickly realized the effect she had on men. While living on the Imperial capital world of Coruscant, she used seduction and the promise of carnal pleasures to become involved with the elite of Imperial Center. Roganda was able to infiltrate the Imperial Court, using her beauty and seeming naivety to play into the court's chauvinistic attitudes. Roganda eventually set her sites on Emperor Palpatine himself, becoming one of his many concubines and a favored member at court. Due to her Force-sensitivity, she distinguished herself as one of Palpatine's foremost courtesans.[9] As a mistress of the Emperor, Roganda was lent to Imperial dignitaries as a temporary gift.[18] During this time, Roganda met Sarcev Quest, a servant of the Emperor and a staple of the court. Handsome and charismatic, Quest became involved with Roganda, and she became pregnant.[19] Knowing that her pregnancy made her a liability due to her role as Palpatine's mistress, she devoted herself to becoming a servant of the Emperor and less disposable to His Imperial Majesty. Her resolve and dedication eventually saw her promoted to one of the Emperor's Hands,[9] elite dark side users that reported directly to Palpatine.[19] As an Emperor's Hand, Roganda was assigned to seduce Palpatine's enemies and learn their secrets,[9] also working as an assassin.[11][4] In 4 BBY,[20] she gave birth to her child, Irek back on Alderaan,[1][21] and began to groom him as Palpatine's heir. She believed that placing her son on the throne would be adequate revenge for the death of her family at the hands of the Empire.[9]
End of the Empire
Edit
"It's a hotbed of intrigue, dear; just terrible. I'm told they're all at daggers-drawing, my dear. Because of course, whoever can provide him with a child, that child is going to be his heir."
―Celly Organa speaking about Palpatine's concubines
Following the birth of her son, rumors abounded that Irek was the Emperor's progeny, and Roganda did not deny them, concealing the identity of his true father to garner further support for her son as a possible heir to the throne.[9] Even while Irek was still a child, Roganda began to train her son in the dark side of the Force, hoping to develop him into a talented Force-user.[22] During Irek's training, Roganda came upon the scientific articles, "The Light Side of the Subelectronic Force" and "The Universal Energy Field" by the Imperial scientist, Nasdra Magrody. In the articles, Magrody speculated about the possibility of implanting a device into a Force-sensitive's brain to allow that person to manipulate technology through the Force. Desiring this power for her son, Roganda kidnapped Magrody.[23] Shortly after the Battle of Yavin, when Irek turned five, Magrody implanted his invention, a subelectronic converter into Irek's brain, allowing the young boy to manipulate technology through the Force.[22] Two years later, at the age of seven, Irek began further training in the dark side of the Force, overseen by Magrody,[1] who had a modicum of Force-sensitivity.[22] Magrody also schooled Irek in scientific lessons, using accelerated learning techniques that he had developed at Omwat orbital station. Roganda claimed to Magrody that this training was at the Emperor's command, but the Imperial scientist was skeptical that Palpatine knew anything about it.[22]
Shortly before the Battle of Yavin,[24] Roganda attended a senatorial banquet on Coruscant,[25] commemorating Princess Leia Organa as the new Senator from that world.[18] Organa became familiar with Roganda and learned of the rumors about her son from her aunt Celly.[1][18] However, Organa was not allowed to speak with Roganda during the banquet, kept from doing so by her other aunt, Rouge Organa, who disapproved of the Emperor keeping a harem of concubines.[18]
In 4 ABY, Emperor Palpatine was killed in the Battle of Endor.[26] This destroyed Roganda's plans for her son to take the throne, as he was only eight years old, and Roganda did not have the support to repel others who were vying for the Imperial throne.[9] Roganda also feared that Grand Admiral Thrawn had DNA evidence that Irek was not the Emperor's son.[22] When Trioculus was crowned Emperor[9] by the Central Committee of Grand Moffs[27] on the claim that he was Palpatine's legitimate son, Roganda knew that she had missed her chance, and she departed Coruscant with her son.[9] Roganda later claimed that she sold all of her possessions to escape Coruscant, keeping only a small topaz ring. She attempted to find refuge on a number of worlds still loyal to the Emperor's memory, but persons there remembered her days as Palpatine's concubine, and she was abused and taken advantage of. Roganda also claimed that her unhappiness during this time caused her to make several bad decisions. By 5 ABY,[18] Roganda had made her way back to Belsavis to bide her time until the right opportunity presented itself.[9]
On Belsavis
Edit
"On other worlds where I thought to take refuge, I've had bad experiences with those who remembered me from the Emperor's Court. And I admit I was…unhappy enough to do some foolish things in those days."
―Roganda Ismaren
In the years since Roganda had resided in Plett's Well, the village had become a hub for smuggling activities based on the wealth of supplies left behind in the abandoned settlement under Plett's Well. Now known as "Plawal", the operation was led by the town boss, Nubblyk the Slyte, who maintained control over the salvage by concealing the tunnels into the underground city. Roganda arranged Nubblyk's disappearance[28] and took possession of his home, a place on Painted Door Street.[29] To keep the smuggling business of Plett's Well from drawing attention to her location, she orchestrated the disappearance of several smugglers who had worked for Nubblyk, including Mubbin the Whipid and Drub McKumb, crippling their operation and ensuring that Plett's Well would be left in obscurity and the abandoned settlement left to her devices.[28][22] Those in the smuggling operation were brainwashed and drugged to use as guards in the tunnels and keep anyone from investigating the abandoned Jedi settlement.[30] Roganda continued to train her son, using Magrody, forcing him to continue Irek's training by imprisoning him on Belsavis and threatening his wife and daughter, Elizie and Shenna. Drugged with telezan, Magrody was unable to resist Roganda's orders. By 8 ABY, Irek was well versed in Magrody's lessions, talented enough for an advanced degree in subelectron physics or a position as a droid motivator technician.[22]
Around this time, Roganda had recruited around a dozen military-types to support her on Belsavis. These soldiers were drawn to her through persuasion and blackmail and worked to protect Roganda's interests.[22] She was also able to rebuild a semblance of her privileged life that she had enjoyed on Coruscant, obtaining vine-coffee[18] and expensive perfumes such as Lake of Dreams and Whisper.[29] By the time Irek had turned thirteen, his control over droids and other technology through the subelectronic converter implant was considerable. He was able to alter sensor fields and stayed abreast of all new standard droid models. Roganda brought her son various artifacts of the Jedi from the abandoned settlement, which he was able to master. As a mother, Roganda was a strict taskmaster, pushing her son to continually develop his powers.[22] Her efforts formed Irek into a powerful Force-user, with abilities that far outstripped her own.[1] As a form of rebellion against her demanding nature, Irek would occasionally cause droids in Plett's Well to malfunction and dabbled in substances such as yarrock that he knew his mother would disapprove of. After Irek had learned all that he could from Magrody, Roganda ended her relationship with the Imperial scientist.[22][31]
Ismaren plot
Edit
"I've received reports from operatives in the Senex Sector and the adjoining portions of the Juvex Sector. They say that the heads of six or seven of the old Houses—the ones who've been lying low, staying out of the border fighting and not committing to the warlords of the Empire—have all gone 'on vacation'…without taking their families or their mistresses."
"Oh, yeah? Now, that's serious."
"This is curious enough, but it coincides almost exactly with the 'vacations' taken by the uncommitted ex-governors of Veron and Mussubir Three, and with representatives of the Seinar Corporation and a high-up member of the Mekuun family. Drost Elegin—the head of House Elegin—evidently took his family but left them on Eriadu."
―Gial Ackbar and Han Solo discuss the first evidence of the Ismaren plot
By 12 ABY,[32] Roganda was ready for an attempt at placing her son on the Imperial throne. To do so, she developed a plot involving the aristocratic lords of the Senex and Juvex sectors. Using Irek's mastery over machines, she ordered her son to bring the Eye of Palpatine to Belsavis.[12] The Ismarens recruited Ohran Keldor, the original designer of the vessel, into their scheme, so that he could school Irek on the schematics of the Eye of Palpatine, which would allow him to take control of it. From a great distance, Irek was unable to take direct control of the battlemoon, but he was able to activate the signal relay that had been damaged, sending the Eye of Palpatine back onto its automated mission. The Ismarens hoped that once the device was in range of Belsavis, Irek could take full control over the ship.[33] To keep their plan secret, Roganda arranged the deaths of those who might warn the New Republic about the awakening of the long dormant superweapon. Among those killed was Stinna Draesinge Sha, after Roganda hired the assassin Phlygas Grynne to eliminate the scientist and former student of Nasdra Magrody.[34][35]
Using the promise of control over the Eye of Palpatine as a bargaining chip, Roganda requested financial and military support from Senex-Juvex in a campaign to reunite the fractured Empire and place her son as the new Emperor.[12] The heads of six or seven noble houses who had tried to stay out of the Galactic Civil War, including Lord Garonnin and Lord Drost Elegin, answered Roganda's request for a meeting and agreed to come to Belsavis to hear her proposal. Additionally, ex-governors from the worlds of Veron and Mussubir Three, and the heads of the Mekuun and Seinar Corporations also agreed to meet with Roganda.[10]
As Roganda was finalizing negotiations, Leia Organa, now Chief of State of the New Republic, came to Belsavis with her husband Han Solo, his copilot Chewbacca, and the astromech droid R2-D2. Leia and her husband had come to the world to investigate claims from the crazed Drub McKumb, who had escaped his captivity from under Plett's Well and told them of the Children of the Jedi.[36][12] Upon their arrival, the group investigated Plett's House, discovering the drugged and brainwashed smugglers protecting the tunnels beneath the house.[37] Worried that Organa and her group would uncover her plot, Roganda had Irek take control of R2-D2 to assassinate the group. However, the plan failed,[14][35] and Organa recognized Roganda as she spied on them.[28][14] When Organa confronted the former concubine, Roganda lied to the woman, claiming that she had become a fruit picker, and that her young son had died. Organa was suspicious of Roganda's claims, including her assertion that she had left the Empire behind, but she agreed to conceal Roganda's location on Belsavis, on the belief that she was truly attempting to live in peace.[1][18]
However, Organa's curiosity eventually uncovered Roganda's plotting, and she pursued the Ismarens and their allies, Drost Elegin, Ohran Keldor, and Garonnin, into the tunnels below Plett's Well. Roganda and her group captured the Chief of State, but her droid, R2-D2, escaped from their grasp when Irek was unable to control the droid due to it being rewired following the first attack.[35] Irek wanted to kill Organa, but Roganda and her allies knew that the Chief of State would be much better use as a hostage, imprisoning her in the tunnels.[22] As more financial backers arrived on Belsavis, Roganda was forced to drug Organa to keep her from interfering. The large contingent of potential supporters included Lady Theala Vandron of Karfeddion, Lord Vensell Picutorion,[30] Lady Carbinol,[38] one of the lords of House Sreethyn, representatives of the Mekuun Corporation, and the president of the board of directors of the Seinar Corporation. Roganda oversaw her son as he charmed their guests and assured them that his control of the Eye of Palpatine would be the first step to an allied fleet that would put them in a position of power against the New Republic.[30]
The plan falls apart
Edit
"I warn you, Madame, the gunnery computer was a semi-independent entity from the central mission control computer—the Will. If there's been a problem with the Will itself, it may not even let us on board, much less permit us into the central core."
"You mean we may not be able to stop the Eye, or control it afterwards?"
"There is that possibility."
"Then wait here. More pragmatism, if there's one thing I learned in getting out of Coruscant ahead of the Rebels, it was: Never be without money."
―Ohran Keldor and Roganda Ismaren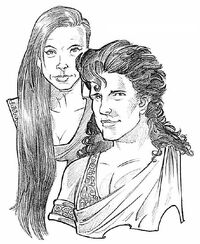 As the Eye of Palpatine became closer to Belsavis, Roganda ordered Irek to overload the central servomotors controlling the landing silos to keep anyone from leaving Belsavis so that they could demonstrate the battlemoon's power. However, when the weapon came in range of the planet, Irek found that he could not control it.[33] Unknown to the Ismarens, the Jedi Master Luke Skywalker had damaged the computer core,[39] keeping Irek from tapping into the battlemoon's systems. The Ismarens believed that Irek's inability to control R2-D2 earlier was tied into his struggle to control the Eye of Palpatine, and they summoned Organa to interrogate her. The Alderaanian princess revealed that R2 had been rewired, which caused Keldor and the Ismarens to surmise that the battlemoon had been damaged. As the landing silos had been shut down, the group planned to commandeer Theala Vandron's shuttle to board the Eye of Palpatine and attempt to repair the weapon.[33]
However, Keldor warned Roganda that the central computer onboard, The Will, might not allow them to gain access to the ship. With this information, Roganda took a large case of credits in the event that their mission failed. As the group readied for their mission, Organa provoked Roganda, causing her to slap the princess, alerting one of the financial backers, Garonnin. Organa called out to the man, claiming that the Ismarens were abandoning Belsavis to the Eye of Palpatine. Irek killed the man with his lightsaber, and in the chaos, Organa escaped. Irek and Keldor pursued the princess through the tunnels, but the intervention of Han Solo resulted in Keldor's death.[33] Without Keldor's help, the Ismarens could not fix the Eye of Palpatine, and they were forced to abandon their plans and their potential supporters. Making their way out of the tunnels, Roganda and her son incapacitated the guards watching over Lady Vandron's Tikiar starship and used it to depart Belsavis. Following their departure, the Eye of Palpatine arrived above Belsavis, ready to shell the planet to cinders. However, Luke Skywalker and one of his students, Cray Mingla, had activated the self-destruct of the ship, and before it could begin its attack, the battlemoon exploded to the relief of those still on Belsavis.[38]
Roganda made her way to the Atravis sector, where heavy concentrations of Admiral Harrsk's troops had been reported. The New Republic's Admiral Ackbar eventually gathered intelligence on their destination.[40][41][42] To counteract Irek's abilities with electronics, the Republic planned to alter the schematics of their starfighters and warships to keep them from being sabotaged and to keep Harrsk from using the Ismarens in his attacks against the New Republic.[40] The individuals who had come to Belsavis to listen to Roganda's proposal were not charged for their involvement, due to the fact that they had only listened to Roganda and not acted upon her plans.[12]
Lord Nyax
Edit
"Very nasty business. It gives even mad science a bad name."
By 14 ABY,[43] Roganda and Irek Ismaren had settled back on Coruscant[17][44] and somehow obtained a handful of Sith scrolls containing information on the ancient art of mechu-deru, of which Irek's brain implant gave him an enhanced mastery.[9] These scrolls also contained the secrets of the Draggulch Period Dark Lord Belia Darzu.[45] In a laboratory inside the Bluenek Section Pasarian Memorial Atmospheric Reclamation Complex Project[46] on Coruscant, Roganda hired Lord Cronal,[23] a former Prophet of the Dark Side,[21] and Emperor's Hand[47] to continue Irek's training.[21] In an effort to make her son more powerful, Roganda had a group of scientists place her son into stasis. While in suspended animation, Roganda had the scientists add muscle mass and bone to his frame and also implanted lightsaber blades in his wrists, elbows, and knees.[48] Fearing that other Force users might discover them, she arranged to bring ysalamiri from Myrkr to mask their presence.[49] However, during one of her son's lessons, Irek lost his temper, initiating a lightsaber duel with Cronal.[21] Although Irek's skill with a lightsaber was poor,[1] records showed that Cronal was killed in the fight,[49] but he escaped through the use of technobeasts[50]but not before stabbing Irek through the head with his lightsaber.[21] Irek was brain-dead, but Roganda and her medical droids were able to maintain his autonomic functions and keep his body alive.[49]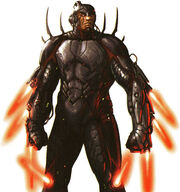 Over the years, Roganda continued to tend to her son, using medical droids to subject Irek to growth hormones and cybernetic stimulation. These efforts increased Irek's size, growing him to three meters in height. Armor plates were installed in his head, torso, elbows, and knees, and the missing portions of his brain, mostly those pertaining to human memory, were replaced with cybernetics. Roganda programmed the droids working with her to not record Irek's transformation, keeping her efforts to repair her son hidden.[46] She also arranged to augment his subelectronic converter so that it would stimulate the remaining portions of his brain to make his control over the Force even greater. However, these efforts could not repair Irek, and Roganda became increasingly unstable, desperate to bring her son back. She created operational programming and prefabricated memories in an attempt to fully restore Irek, at least artificially.[49]
Before the process could be completed, something, most probably a groundquake, caused ceiling rubble to drop on the the suspended animation chamber, also killing one or more of the ysalamiri. Irek, his brain devoid of anything but his implant, his instincts, some combat programming, and some deep-level motivations like killing Jedi and taking over Force nexuses, awoke and killed his mother,[49] cutting her into approximately eight pieces with his lightsabers.[51] He escaped and eventually adopted the name Lord Nyax, after the Corellian bogey-man tale.[52]
Post-mortem
Edit
In 27 ABY, after Coruscant fell to the Yuuzhan Vong, an infiltration team consisting of Luke Skywalker, Mara Jade, Garik Loran, Baljos Arnjak, Bhindi Drayson, Tahiri Veila, Danni Quee, Kell Tainer, and Elassar Targon, explored the Pasarian Memorial Atmospheric Reclamation Complex Project. They discovered the laboratory and found Roganda Ismaren's dissected remains, confirming her identity after running cell samples against her records in the laboratory files.[49] Her son was eventually hunted down by the group and defeated.[52]
Personality and traits
Edit
"What is the 'dark side,' Princess? Some of us think that fanatic adherence to every jot and quibble of an antiquated code is, if not dark precisely, at least stupid. And from all I've heard, the 'dark side' seems to be anything that disagrees with the hidebound, divisive, every-tree-and-bush-is-sacred teachings that shackled the Jedi gifts—and shackled every political body that had anything to do with the Jedi, whether they agreed with them or not—like an iron chain."
―Roganda Ismaren
Roganda was a slender woman with light skin, black hair and black eyes. She was a soft-spoken woman with a high-pitched, lisping speech. As Palpatine's concubine, she was trained to carry herself gracefully, and she retained this attribute years after Palpatine's death. The young woman was seen as a great beauty,[18] which she used to her advantage in the Imperial Court.[9] At high-profile events, Roganda wore elaborate outfits adorned with jewels and precious metals. Her long black hair was woven through with silk and lace. However, upon her departure from Coruscant, Roganda lived simply, wearing plain white dresses and keeping her hair free of ornamentation.[18]
As a young girl, Roganda witnessed her brother being killed, which badly traumatized her and placed in her a strong desire for power that would keep her from her brother's fate.[9] After becoming a member of Palpatine's court, Roganda became a skilled manipulator, able to deceive those around her and portray herself in many different guises. Her ability to work behind the scenes allowed her to survive the cutthroat atmosphere of Coruscant.[22] Although Roganda portrayed herself as shy and defenseless, this was an act to keep people underestimating her. Alone and around her son, this personality was replaced with a collected, ambitious attitude. From her time in the Imperial Court, Roganda had been looked down upon for not being of noble birth and a concubine of the Emperor. She remembered these slights many years after departing Coruscant, resenting those that had scorned her. This also added into her desire for power, and the training of her son was an effort to bring them both the power she had always desired.[33] When Irek was killed by Lord Cronal, Roganda could not accept her son's death, keeping him alive and replacing the damaged parts of his brain with computer parts. Over the years, she became increasingly more deranged, unable to cope with the loss of her boy.[49]
Powers and abilities
Edit
"She doesn't know as much as she thinks she does."
Roganda was the daughter of members of the Jedi Order and inherited their Force-sensitivity.[10] Although she was trained in the Jedi Temple[8] and later by Jedi Master Plett,[11] she was still a child when kidnapped by Imperial Inquisitors.[9] However, she was strong enough in the Force to escape the Inquisitors who had captured her.[4] Her powers allowed her to infiltrate the Imperial Court and become one of Palpatine's favored concubines. Her devotion to her son also led to her becoming one of the Emperor's Hands.[9] However, Roganda's son was much more powerful in the Force than she,[1] and although she began her son's training,[22] she was forced to pass off further training to other Force-users, such as Nasdra Magrody[1] and Lord Cronal.[21]
Behind the scenes
Edit
"She wondered how Roganda had come to the old man in the first place, and whether it was he who had turned her to the dark side, as he had turned Vader and for a time turned Luke, or whether Roganda had sought him out when she saw the fate of Jedi who tried to stay free. Somehow, Leia strongly suspected the latter."
―Excerpt from Children of the Jedi by Barbara Hambly
Roganda Ismaren was created by Barbara Hambly as the antagonist in the 1995 novel, Children of the Jedi. Following the end of the novel, the character and her son escaped and were not seen again in a novel until 2002. The New Jedi Order: Enemy Lines II: Rebel Stand by Aaron Allston detailed Roganda's final fate, killed by her own son. Several reference articles and books expanded Roganda's backstory and detailed her appearances in the novel. One notable reference article, The Emperor's Pawns in Star Wars Gamer 5 gave information on how Roganda had become an Emperor's Hand and a servant of the Emperor. In addition, it also named the true father of Roganda's son, Sarcev Quest, confirming that her son was not Palpatine's . In Children of the Jedi, Leia Organa muses as to how Roganda was turned to the dark side, coming to the conclusion that she must have gone to the Emperor herself after seeing the fate of other Jedi. The Emperor's Pawns confirmed some of this speculation, clarifying that Roganda had gone to the Emperor after becoming pregnant.
Children of the Jedi was originally dated to 11 ABY according to Barbara Hambly.[53] This date is implied in the novel, as Leia Organa claims that she was introduced as a senator 11 years ago. Additionally, several places in the novel claim that Roganda and Irek have been living on Belsavis for 7 years. It also states that Yoda had died "about seven years ago". However, The Essential Chronology, and later, The Essential Reader's Companion dated the novel to 12 ABY. This movement of the timeline allowed the defeat of the Eye of Palpatine, which had occurred "thirty years ago" to happen after the events of Star Wars: Episode III Revenge of the Sith, which was dated to 19 ABY. However, this placement affected Roganda's backstory and some of the ages stated in Children of the Jedi. In the novel, Leia states that Irek is "fourteen or fifteen years old", and The Essential Guide to Characters definitively states that Irek was fourteen at the time of Children of the Jedi. Moving the novel to 12 ABY has rendered some of these dates erroneous.
In Children of the Jedi, the refugee group that are the namesake of the novel are literally "Children of the Jedi", sons and daughters of members of the Jedi Order. Roganda and her brother are stated to be the offspring of Jedi that were escaping the Empire. The novel was written before the release of Star Wars: Episode I The Phantom Menace and the revelation that the Jedi Order had a taboo on marriage. However, The New Essential Guide to Characters, published in 2002, retconned the children into younglings from the Jedi Temple and stated that Roganda was one of these Jedi children. However, the reference article, The Emperor's Pawns published in 2005, states that Roganda and her brother "were captured, taken from their parents", referencing the backstory from the novel. For the purposes of this article, it is assumed that Roganda and her brother were Jedi Initiates, and also the actual children of Jedi.
In the Jedi Academy Training Manual, the entry on Irek Ismaren states that Roganda and her son escaped into the jungles of Belsavis after the destruction of the Eye of Palpatine and then later booked passage to Coruscant from Belsavis. This directly contradicts Children of the Jedi which shows the Ismarens commandeering a ship and escaping into the Atravis system.
Appearances
Edit
Notes and references
Edit
↑ 1.00 1.01 1.02 1.03 1.04 1.05 1.06 1.07 1.08 1.09 1.10 1.11 1.12 1.13 1.14 The Essential Guide to Characters, p. 75
↑ In Chapter 13 of Children of the Jedi, Leia Organa states that Roganda appears to be "a few years older" than her. Based on Leia's birth in 19 BBY from Star Wars: Episode III Revenge of the Sith, this would place Roganda's birth sometime around 22 BBY.
↑ 3.0 3.1 The New Jedi Order: Enemy Lines II: Rebel Stand, Chapter 12
↑ In Chapter 22 of Children of the Jedi, Roganda is stated to be "about Leia's height", which is given as 1.5 meters in The New Essential Guide to Characters. However, The Essential Guide to Characters lists her height as "Unknown".
↑ 6.0 6.1 6.2  "The Emperor's Pawns"—Star Wars Gamer 5, p. 46
↑ 8.0 8.1 8.2 The New Essential Guide to Characters, p. 37
↑ 9.00 9.01 9.02 9.03 9.04 9.05 9.06 9.07 9.08 9.09 9.10 9.11 9.12 9.13 9.14 9.15 9.16  "The Emperor's Pawns"—Star Wars Gamer 5, p. 47
↑ 11.0 11.1 11.2 The Dark Side Sourcebook, p. 106
↑ In Children of the Jedi, it is stated that the Eye of Palpatine was sent to attack Belsavis "thirty years ago". The Essential Reader's Companion dates Children of the Jedi to 12 ABY, giving a date of 18 BBY for the attack.
↑ 14.0 14.1 14.2 14.3 Children of the Jedi, Chapter 12
↑ Children of the Jedi, Chapter 17
↑ 17.0 17.1 The Complete Star Wars Encyclopedia, Vol. II, p. 120 ("Roganda Ismaren")
↑ 19.0 19.1  "The Emperor's Pawns"—Star Wars Gamer 5, p. 48
↑ In Chapter 18 of Children of the Jedi, Leia states that Irek "had to have been at least four years old" when Leia first encountered Roganda before the Battle of Yavin. This was referenced in The Emperor's Pawns, which states that Irek was eight years old at the Battle of Endor in 4 ABY. However, this reference was ignored by later sources, such as The Essential Guide to Characters and the Jedi Academy Training Manual which sets Irek's age at 14 in Children of the Jedi, which would place his birthdate as 2 BBY. For the purposes of this article, the original 4 BBY date is used.
↑ 22.00 22.01 22.02 22.03 22.04 22.05 22.06 22.07 22.08 22.09 22.10 22.11 22.12 Children of the Jedi, Chapter 18
↑ 23.0 23.1 "Droids, Technology and the Force: A Clash of Phenomena" on Hyperspace (article) (content removed from StarWars.com and unavailable)
↑ In Children of the Jedi, Leia Organa was stated to be eighteen when she attended the levee, and her birthdate was established as 19 BBY in The New Essential Chronology. However, The Essential Guide to Characters states that the banquet occurred "two years prior to the Battle of Yavin". The guide also mentions Organa's age of 18, perhaps denoting that this timeline placement was a mistake. Also confusing the issue is that in Children of the Jedi, Leia states that the banquet occurred in the same year that Palpatine dissolved the Imperial Senate, giving a timeline placement of 0 BBY.
↑ In Children of the Jedi, the banquet in which Organa first becomes familiar with Roganda is stated to have taken place in the Senate Rotunda and attended by influential members of the Imperial Court, implying that the banquet took place on Imperial Center. However, The Essential Guide to Characters states that the banquet was on Alderaan. This was proven to be an error when the banquet was depicted in "The Princess Leia Diaries", which showed it taking place on Coruscant. The Complete Star Wars Encyclopedia also confirmed that the banquet was on Coruscant.
↑ 28.0 28.1 28.2 Children of the Jedi, Chapter 8
↑ 29.0 29.1 Children of the Jedi, Chapter 22
↑ 30.0 30.1 30.2 Children of the Jedi, Chapter 21
↑ In Chapter 23 of Children of the Jedi, Leia states that "Magrody knew far too much to be allowed to live." However, his death is never made explicit in the novel or in his entry in The Complete Star Wars Encyclopedia.
↑ Children of the Jedi, Chapter 1
↑ 35.0 35.1 35.2 Children of the Jedi, Chapter 16
↑ Children of the Jedi, Chapter 2
↑ Children of the Jedi, Chapter 10
↑ 38.0 38.1 Children of the Jedi, Chapter 24
↑ Children of the Jedi, Chapter 20
↑ 40.0 40.1 Children of the Jedi, Chapter 26
↑ The Essential Chronology, p. 106
↑ In Enemy Lines II: Rebel Stand, the medical droids that operated on Irek Ismaren state that they arrived at the laboratory on Coruscant "thirteen years ago". The New Essential Chronology dates the events of Enemy Lines II as happening in 27.5 ABY.
↑ The New Essential Chronology, p. 168
↑ "Evil Never Dies: The Sith Dynasties" on Hyperspace (article) (content removed from StarWars.com and unavailable)
↑ 46.0 46.1 The New Jedi Order: Enemy Lines II: Rebel Stand, Chapter 6
↑ The New Essential Chronology, p. 218
External links
Edit