Roganda Ismaren
Talk

2
107,635pages on
this wiki
Roganda Ismaren
Biographical information
Homeworld
Died
Physical description
Species
Gender
Hair color

Black[1]

Eye color

Black[1]

Chronological and political information
Era(s)
Affiliation
Apprentices
"Palpatine was a pragmatist. As am I."
―Roganda Ismaren
Roganda Ismaren was a Human female from Alderaan, a former Jedi Initiate who served Emperor Palpatine as an Emperor's Hand and a concubine. From her affair with Sarcev Quest, she was the mother of Irek Ismaren,[2] although she maintained throughout her life that the father was Palpatine.[3]
Biography
Edit
Early life
Edit
"If I'd followed the strictest traditions of my family I'd have been destroyed, as they and my older brother Lagan were destroyed. As it was, I adapted those traditions."
―Roganda Ismaren, to Leia Organa Solo
Roganda Ismaren originally hailed from the Core World of Alderaan.[1] At some point in her early childhood, she joined the Jedi Order as an Initiate. She and her older brother Lagan were among the few Jedi younglings that survived Order 66 and Operation Knightfall in 19 BBY. They took refuge in Plett's Well on Belsavis, under the wing of Master Plett, along with numerous other "Children of the Jedi."
Although the battlestation known as the Eye of Palpatine never arrived on Belsavis to carry out its mission of eradicating the Jedi refugees, having fallen victim to Jedi sabotage in the Moonflower Nebula, an Imperial force arrived in its stead, and bombed Plett's Well.[3] Plett and most of the Children were able to escape, but Roganda and Lagan were left behind. They were taken from their parents and brought before Inquisitor Ameesa Darys, who slew Lagan before his sister's eyes. In order to avoid a fate like her brother's, Roganda vowed to rise through the ranks of the Empire and gain power.
The Emperor's Courtesan
Edit
She used her sexual talents to penetrate the Human male-dominated upper echelons of the Empire, eventually entering the Imperial Court, the domain of the Emperor himself. For Roganda, Palpatine was the ultimate goal—and she attained it, becoming one of his courtesans. She was the only one of the Emperor's mistresses who could touch the Force, and that set her apart, but her life as an Imperial concubine ended when she became pregnant. Although she maintained that the Emperor was the father,[1] in reality, this son, named Irek, was not Palpatine's; the real father was Sarcev Quest, one of his Hands, secret special operatives with control over the Force. Since she could no longer serve as a concubine, Roganda set out to become an Emperor's Hand herself, and through great resolve and persuasion, she succeeded. She continued to use her seductive wiles in her new facility, now to extract secrets from her master's enemies. But her ultimate goal now was revenge—she groomed her son to become the next Emperor as vengeance on Palpatine for destroying her family.[2]
In 1 BBY,[4] at a banquet in the Senate Rotunda[3] on Coruscant,[5] Princess Leia Organa saw Roganda Ismaren for the first time. Leia's aunt Rouge told her that the woman was one of Emperor Palpatine's concubines, and her aunt Celly told her that she had borne the Emperor an illegitimate son.[1]
The Ismaren plot
Edit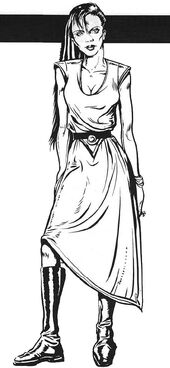 "She doesn't know as much as she thinks she does."
After the Emperor's death during the Battle of Endor, Roganda went into hiding on the planet Belsavis, where she concocted a plot to take control of the Empire and reunify it with Irek as Emperor, with the financial backing of the wealthy Senex and Juvex lords of the Senex and Juvex sectors. For this purpose, she trained her son in the use of the dark side from the age of seven. As part of her plan, Roganda kidnapped Professor Nasdra Magrody, and forced him to implant a subelectronic converter in Irek's brain, in order to give her son the ability to control machines remotely with his mind.[3]
In 12 ABY, Leia Organa, now Chief of State of the New Republic, came to Belsavis with her husband Han Solo, his copilot Chewbacca, and R2-D2,[6] in search of the Children of the Jedi. Leia encountered Roganda Ismaren and recognized her, and the former Emperor's Hand begged Leia not to reveal her to the New Republic, and told her that she now worked as a fruit packer and that Irek had died.[1] Later, she kidnapped the Chief of State in the Plawal Rift and ordered Irek to "call" the Eye of Palpatine to Belsavis using his subelectronic converter. She intended to use the battlestation as a bargaining chip with the Senex and Juvex lords, but did not foresee the ship being sabotaged by Leia's twin brother, Luke Skywalker.[6] Roganda and Irek fled Belsavis and took refuge in the Atravis sector, where heavy concentrations of Admiral Harrsk's troops had been reported.[1]
Lord Nyax
Edit
"Very nasty business. It gives even mad science a bad name."
Roganda and Irek Ismaren eventually settled on Coruscant and somehow obtained a handful of Sith scrolls containing information on the ancient art of mechu-deru, of which Irek's brain implant gave him an enhanced mastery.[2] These scrolls also contained the secrets of the Draggulch Period Dark Lord Belia Darzu.[7] In a laboratory inside the Bluenek Section Pasarian Memorial Atmospheric Reclamation Complex Project[8] on Coruscant, Roganda had a group of scientists tamper with her son even further.[9] Fearing that other Force users may discover them, she arranged to bring ysalamiri from Myrkr to mask their presence.[8] She hired Cronal to further instruct him in the ways of the Force,[10][11] but during a duel, Irek, whose skill with a lightsaber was poor,[1] lost his temper, and Cronal struck him through the head with his lightsaber before fleeing.
Irek was brain-dead, but Roganda and her medical droids were able to maintain his autonomic functions and keep his body alive, and he was placed in a suspended animation unit. The head wound had caused massive irreparable brain damage, robbing Irek Ismaren of his mental faculties. In an effort to resuscitate him, Roganda had the medical droids insert increasingly sophisticated components into his subelectronic converter and accelerate his growth rate so that he attained a height of over three meters. She wished to make her son whole again, and for that purpose she created operational programming and prefabricated memories in a computer, but they were never implanted. She also implanted lightsabers in his knees, wrists, and elbows.[11] Armor plates were installed in Irek's torso, head, elbows, and knees. The portions of its brain pertaining to human memory were largely replaced by computerized systems.
Before the process could be completed, something, most probably a groundquake, caused ceiling rubble to drop on the the suspended animation chamber, also killing one or more of the ysalamiri. Irek, his brain devoid of anything but his implant, his instincts, some combat programming, and some deep-level motivations like killing Jedi and taking over Force nexuses, awoke and killed his mother, cutting her into approximately eight pieces with his lightsabers. He escaped and eventually adopted the name Lord Nyax, after the Corellian bogey-man tale.[8]
Post-mortem
Edit
In 27 ABY, after Coruscant fell to the Yuuzhan Vong, an infiltration team consisting of Luke Skywalker, Mara Jade, Garik Loran, Baljos Arnjak, Bhindi Drayson, Tahiri Veila, Danni Quee, Kell Tainer, and Elassar Targon, explored the Pasarian Memorial Atmospheric Reclamation Complex Project. They discovered the laboratory and found Roganda Ismaren's dissected remains, confirming her identity after running cell samples against her records in the laboratory files.[8]
Appearances
Edit
Notes and references
Edit
↑ In Children of the Jedi, Leia Organa was state to be eighteen when she attended the levee, and her birthdate was established at 19 BBY in The New Essential Chronology.
↑ Evil Never Dies: The Sith Dynasties on Hyperspace (article) (content now obsolete; backup links 1 2 on Archive.org)
External links
Edit