"ROOOAAARRR! *grunt*"
―The roar of a roggwart
Roggwarts were large predatory beasts. A distinguishing anatomical feature were a pair of curving horns growing from the sides of their heads. They had a long tail and thick skin. Gor was a pet roggwart owned by General Grievous during the Clone Wars.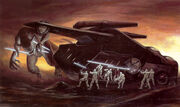 During the Clone Wars, General Grievous kept a pet roggwart named Gor in his castle on Vassek's third moon. Gor was roughly the size of a rancor, and was outfitted with battle armor, including a chest plate with mechanical arms, and helmet. He was released to attack Jedi Master Kit Fisto, his former padawan, Nahdar Vebb, and clone commander Fil, in Grievous' castle. In the end, Gor was defeated by Kit Fisto in Grievous' own home.
Appearances
Edit
Notes and references
Edit
Ad blocker interference detected!
Wikia is a free-to-use site that makes money from advertising. We have a modified experience for viewers using ad blockers

Wikia is not accessible if you've made further modifications. Remove the custom ad blocker rule(s) and the page will load as expected.