Rseikharhl
Talk

5
103,594pages on
this wiki
Rseikharhl
Designation
Homeworld
The Rseikharhls were a sentient species[1] native to the Rseik system in the sector of the same name,[2] located next to the Minos Cluster,[1] Tarabba, Tamarin and Svivreni sectors.[3] The Rseikharhls managed law enforcement across the entire sector, and, being technologically adept, designed and constructed droids to aid in this undertaking.[1]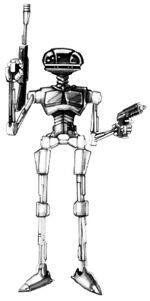 One such droid model was the bipedal LE-VO law enforcement droid. The model was remarkably successful, securing 22,000 arrests and no fatalities across a ten-year period. It was due to this remarkable record that the Galactic Empire permitted the Rseikharls to continue their policing of the sector despite the New Order's pro-Human policies.[1]
The Rseikharhls' droids could be found on many frontier worlds in the Outer Rim Territories,[1] such as Tatooine,[4] acting as local constabularies. They were also available for sale through illegal sources such as Cynabar's Droid Datalog for

9,000.[1]
Behind the scenes
Edit
The Rseikharhls were created for the 1995 West End Games sourcebook Galladinium's Fantastic Technology, in an entry on the LE-VO law enforcement droid created by Mike Kogge for The Fantastic Technology Contest. The droid, and its connection to the Rseikharhls, was subsequently revisited in Cynabar's Fantastic Technology: Droids, published in 1997. The Essential Atlas, published in 2009, created a Rseik system, which author Jason Fry later confirmed is the Rseikharhl's homeworld.[2]
Notes and references
Edit
External links
Edit