"We should not have made this bargain."
―Rune Haako
Rune Haako was a male Neimoidian official of the Trade Federation and a high ranking member of the Separatist Council.
Biography
Edit
Invasion of Naboo
Edit
Rune Haako was Viceroy Nute Gunray's right hand man, Settlement Officer and lieutenant during the Invasion of Naboo. He, Gunray and Dofine schemed with the Sith Lord Darth Sidious in order to achieve greater profits. On Sidious's orders, the three made a blockade on Naboo, because of the new taxation of the formerly Free Trade Zones, and later invaded the planet. The Neimoidians attempted to make Queen Padmé Amidala sign a treaty to make the invasion legal by threatening to starve the people of the planet, but she successfully escaped the planet. To ensure all went according to his plan, Sidious sent his apprentice Darth Maul to oversee the occupation and to keep an eye on the Trade Federation leadership. Gunray held Governor Sio Bibble prisoner and OOM-9 informed Gunray that they would soon drow out the Gungans and kill them. Gunray, Haako and Maul assured Sidious that the Federation will win and that Amidala would soon be forced to return in order to save her people. As they predicted, Amidala returned. Unfortunately, Dofine perished and Gunray, Haako and Senator Lott Dod were sent to Coruscant on trial, but because they had many supporters and powerful partners they retained their positions.[2]
Clone Wars
Edit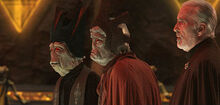 During the Separatist Crisis, Gunray, Haako and their partners from planets and corporations were invited to Geonosis by Count Dooku, Sidious's new apprentice. Gunray and Haako pledged the Trade Federation's support to the Confederacy of Independent Systems and asked that in return Dooku kill Amidala, the Federation's most hated enemy. Gunray, Haako, Dooku and Archduke Poggle the Lesser oversaw the failed execution of Jedi Knight Obi-Wan Kenobi, his Padawan Anakin Skywalker and Amidala in the Petranaki arena, who were saved by the Jedi and the new Grand Army of the Republic. The two Neimoidians went to where the other Separatist Council members gathered and saw with their own eyes the First Battle of Geonosis via hologram, before retreating in a Sheathipede-class shuttle.[4] At the end of the war, the Separatist Council was called by General Grievous to Utapau, following the death of Dooku, and were sent to Mustafar where Haako and the rest were killed by Darth Vader, on Sidious's orders.[1]
Appearances
Edit
Non-canon appearances
Edit
Notes and references
Edit
Ad blocker interference detected!
Wikia is a free-to-use site that makes money from advertising. We have a modified experience for viewers using ad blockers

Wikia is not accessible if you've made further modifications. Remove the custom ad blocker rule(s) and the page will load as expected.