Runyips were a herbivorous species that foraged on the floors of Yavin 4's forests, where they were harassed by piranha beetles.
Biology and appearance
Edit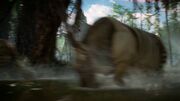 A species of squat quadrupeds, runyips hailed from Yavin 4, the fourth moon of the gas giant Yavin. The creatures had antlered heads with a flexible nose, and their front toes bore a claw. Their coats had a characteristic pattern of black or dark brown stripes on a whitish background.[1]
Classified as non-sentient, the runyips were herbivores that lived in the forest and fed by foraging on its floor. They were frequently attacked by swarms of carnivorous piranha beetles.[1]
Behind the scenes
Edit
Runyips were first created for Galaxy Guide 2: Yavin and Bespin, a supplement for West End Games' Star Wars Legends Star Wars: The Roleplaying Game, which was written by Jonatha Ariadne Caspian and released in 1989.[3] The species was confirmed to be canon in the reference book Ultimate Star Wars, which was released in 2015.[2] They first appeared in Electronic Arts' 2017 video game Star Wars Battlefront II.[4]
Appearances
Edit
Notes and references
Edit
↑ Star Wars Battlefront 2: Official Gameplay Trailer on the official Star Wars YouTube Channel
Ad blocker interference detected!
Wikia is a free-to-use site that makes money from advertising. We have a modified experience for viewers using ad blockers

Wikia is not accessible if you've made further modifications. Remove the custom ad blocker rule(s) and the page will load as expected.