S'ybll
Talk

4
103,481pages on
this wiki
S'ybll
Biographical information
Died
Physical description
Species
Gender
Hair color

Red; gray when weak

Chronological and political information
Era(s)
S'ybll was a Human Mind-witch who had leeched the life energy from an Imperial force that had come to her planet.
Biography
Edit
As a Mind-witch, S'ybll was required to drain the life essence from people to sustain herself. When Luke Skywalker came to her planet with Han, Chewbacca, C-3PO, and R2-D2, she immediately sensed Luke through the Force, enabling her to strike out at him.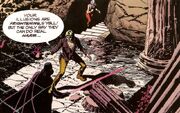 She lured him to her by using her magical powers to take the form of Luke's past love interest, Tanith Shire, and falling into a waterfall, thereafter showing herself as a beautiful, red-haired young woman. She took Luke to her home, a series of ancient ruins, which was guarded by empty stormtrooper armor and a crashed Lambda-class shuttle. There she tried to seduce Luke. When this failed, she lured him away by sending the illusion a Night Beast, a creature similar to one Luke and Han had fought on Yavin 4, after him. While trying to escape it, he fell from a cliff and fell unconscious.
Later, as he woke, she also used an illusion of his old mentor, Ben Kenobi, in an attempt to persuade him to remain with her on the planet. Shortly thereafter, he once again fainted from his wounds. When he recovered, S'ybll had captured him and started to drain his life essence. He then saw her true form, that of an ugly old crone. Horrified, he managed to escape and tried to fight her. She then revealed massive powers of Telekinesis, which she used against him in the ensuing battle. She was presumed to be dead when her own powers caused the ruins she lived in to collapse over her. In reality she made illusion of her death and later she again confronted Skywalker on Tarnoonga, where she managed to escape. There she was finally killed, confirmed by Luke's astromech.
Appearances
Edit