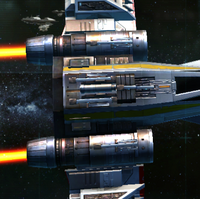 The STAR-94 engine system was a type of starship engine produced by Vokoff-Strood during the the Galactic War between the Galactic Republic and the Sith Empire. When combined with high-grade inertial compensators and thrust regulators, the STAR-94 system enabled pilots to perform a barrel roll that boosted the ship's evasive capabilities beyond the norm. The system was one of Vokoff-Strood's first products after entering the starfighter market; however, they ended up issuing recalls on several batches of engines due to defective manufacture.
Appearances
Edit
Ad blocker interference detected!
Wikia is a free-to-use site that makes money from advertising. We have a modified experience for viewers using ad blockers

Wikia is not accessible if you've made further modifications. Remove the custom ad blocker rule(s) and the page will load as expected.