"Even when fighting the great sabercat, it is best not to turn your back upon the lowly serpent."
―Old Sithian proverb
The saber cat, or sabercat, was a huge, feline, carnivorous species native to the planet Monastery. They were predators with a thick horn which protruded from the top of the skull. The saber cat had four huge paws, each with five razor-sharp claws. Their teeth were also razor-sharp.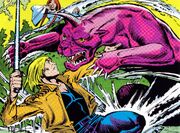 In their years on Monastery, the members of the Order of the Sacred Circle had tamed several saber cats, and kept them as pets.
The whelps brought a high price on the black market, and they were often pets and status symbols for crimelords and nobles.
When Luke Skywalker accompanied Domina Tagge back to Monastery on a diplomatic mission, he saved her from a seeming-saber cat. In truth, Domina Tagge manipulated the creature, (as she had done earlier with a nightshrike).
Behind the scenes
Edit
The saber cat was created by Archie Goodwin and Carmine Infantino.
Appearances
Edit