Sabercane
120,354pages on
this wiki
Talk

2
Sabercane
Production information




Culture

Jedi[1]

Owners
Physical and technical specifications
Hilt shape

Cane handle[4]

Usage and history
Purpose
Era(s)
Affiliation
Sabercanes were a simple variation on the standard lightsaber, merely being a hilt concealed as the handle of a cane.
Specifications
Edit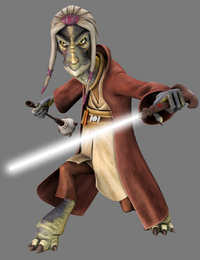 The primary purpose of the sabercane was to act as a concealed weapon, a convenient place to hide a lightsaber. Two of the sabercanes observed, Haazen's and Tera Sinube's, both featured the lightsaber connected to the shaft of the cane at the emitter, necessitating the removal of the shaft to wield the lightsaber.[2][1]
However, the sabercane wielded by the Sith Lord Arkadia Calimondra was somewhat more elaborate, being two lightsabers concealed on either end of a ceremonial staff. Also, as the lightsaber emitters faced away from the shaft, they could be wielded while still connected to it, forming a long-handled, double-bladed lightsaber. Whenever the situation demanded it, Arkadia would detach both hilts from the staff, wielding them as dual-blades.[3]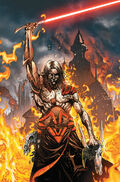 Few individuals wielded sabercanes, one of them being the Sith Acolyte Haazen. As he was not permitted to use a lightsaber by the Jedi Order, he built the sabercane to conceal his weapon, practicing in secret and wielding it only when necessary. Haazen's sabercane followed the aesthetic of his grisly prostheses and produced a red blade when active.[2]
Arkadia Calimondra wielded a unique sabercane during the New Sith Wars, with two lightsabers concealed on either end of a ceremonial staff. While Arkadia retained possession of the lightsabers, the shaft of the staff was taken by Kerra Holt and later given to Jarrow Rusher, who used it as a swagger stick.[3]
The Cosian Jedi Master Tera Sinube's sabercane featured a hilt made of wood from his homeworld.[4] Notably, on one of the few occasions that he wielded his weapon, Sinube also used the shaft of the cane as a secondary weapon, bludgeoning an opponent with it.[1]
Appearances
Edit
Notes and references
Edit