This personal journal was kept by Sabine Wren of the Spectres during her time with the group. In this journal, she recorded various information, including details about the members of the group, enemies that they had encountered, such as the Grand Inquisitor, and her personal sketches and artwork.[1]
Behind the scenes
Edit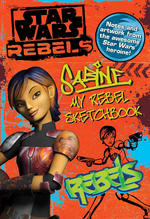 The real-life reference book Sabine My Rebel Sketchbook, released by Studio Fun International, is intended to be a replica of this journal.[2]
Appearances
Edit
Notes and references
Edit
Ad blocker interference detected!
Wikia is a free-to-use site that makes money from advertising. We have a modified experience for viewers using ad blockers

Wikia is not accessible if you've made further modifications. Remove the custom ad blocker rule(s) and the page will load as expected.