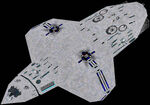 The Sagina was a Strike-class medium cruiser in the Rebel Alliance that had been refitted to Modified Strike Cruiser specifications at the Rebel shipyard Calenz in the Nocto system near the end of the Rebel campaign into the Airam sector.
When Imperial fighters reconnoitered the shipyard heralding an imminent attack by Task Force Vengeance, the Sagina powered up its engines, left the shipyard and quickly entered hyperspace. Its fate is unknown.
Two regular (unmodified) Strike-class cruisers named AGWS-03 and AGWS-04 that were queued in line behind the Sagina at the shipyard suggest that the Sagina may have been AGWS-02 prior to its refit.
Behind the scenes
Edit
The original Modified Strike Cruiser, Peregrine, had been equipped with gravity well projectors taken from a captured Imperial Immobilizer 418 cruiser, the Compellor. It is unclear if or where the Rebel Alliance obtained the gravity well projectors destined for the Sagina and possible further Modified Strike Cruisers. Since the only encounter with the Sagina was during the attack on the shipyard where it left dock and fled, it is possible that the Sagina did not yet have functional gravity well projectors installed. The game database states "Unique craft" for the Modified Strike Cruiser entry, suggesting that the Peregrine was the only fully operational ship of this type ever built.
Appearances
Edit