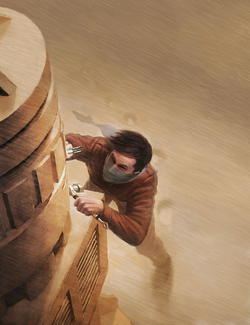 "You'll never reach the outskirts in time. Sandstorms are very, very dangerous."
A sandstorm, also called a sandwhirl, was a dangerous type of storm that occurred on desert planets. They consisted of extremely high winds that would carry sand making visibility and breathing extremely difficult. Sandstorms on the Outer Rim planet Tatooine sometimes manifested as a moving wall of sand and grit.
Appearances
Edit
Ad blocker interference detected!
Wikia is a free-to-use site that makes money from advertising. We have a modified experience for viewers using ad blockers

Wikia is not accessible if you've made further modifications. Remove the custom ad blocker rule(s) and the page will load as expected.