"What is that???"
―Unidentified Rebel pilot during the assault on Space Station Obsidian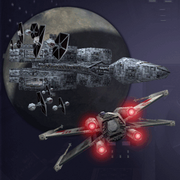 The Sardis was an Imperial Research Ship that performed a critical function as part of the TIE Experimental Project.
The Rebel Alliance encountered the Sardis during the Alliance's attempt to destroy the research station Obsidian. However, the Imperials had been caught unaware of the plot, and the Sardis was unable to perform to its peak efficiency either because it was unmanned, or its systems were not yet operational. The research ship was designated a primary target, and it gave no apparent defensive fire as a squadron of B-wings led by Ace Azzameen destroyed it and the station, effectively ending the program.
Appearances
Edit
Ad blocker interference detected!
Wikia is a free-to-use site that makes money from advertising. We have a modified experience for viewers using ad blockers

Wikia is not accessible if you've made further modifications. Remove the custom ad blocker rule(s) and the page will load as expected.