Satele Shan owned a double-bladed lightsaber during the Great Galactic War.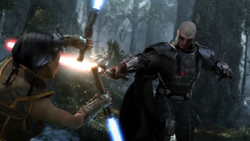 Satele Shan wielded her double-bladed lightsaber during the battle of Alderaan and injuried several Sith warriors along with damaging a Mark I Sith droid before dueling dueled the Sith Lord Darth Malgus during the battle. During the duel it was cut in half by Malgus before he tried to kill Shan.[1]
Appearances
Edit
Notes and references
Edit
Ad blocker interference detected!
Wikia is a free-to-use site that makes money from advertising. We have a modified experience for viewers using ad blockers

Wikia is not accessible if you've made further modifications. Remove the custom ad blocker rule(s) and the page will load as expected.