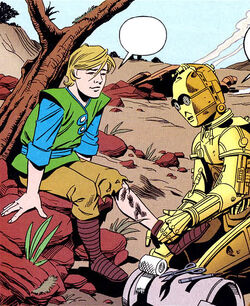 A scalpel was an extremely sharp device used for cutting, typically in medical situations, but sometimes used for cutting hair.
Medics used scalpels to fix wounds and amputate body parts, such as toes or fingers. Clone troopers occasionally used a medic's scalpel to "carve" away at their hair.
Appearances
Edit
External links
Edit
Ad blocker interference detected!
Wikia is a free-to-use site that makes money from advertising. We have a modified experience for viewers using ad blockers

Wikia is not accessible if you've made further modifications. Remove the custom ad blocker rule(s) and the page will load as expected.