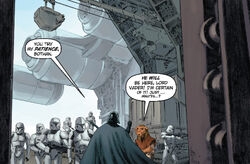 Scimitar of Kelso was an AA-9 Coruscant freighter that left Coruscant's Pad 132 for Nar Shaddaa two weeks after the end of the Clone Wars. Ch'ord Sy'fon told Sagoro Autem to board it, in an attempt to lure him to Darth Vader.
Appearances
Edit
Ad blocker interference detected!
Wikia is a free-to-use site that makes money from advertising. We have a modified experience for viewers using ad blockers

Wikia is not accessible if you've made further modifications. Remove the custom ad blocker rule(s) and the page will load as expected.