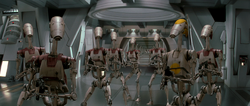 "Now we must leave, before more security droids arrive."
Security droids were a type of droid used as bodyguards, or to protect objects of value. Commonly during the Clone War, the term reffered to the Security Battle Droid used by the Trade Federation. The KX-series was one such example of a security droid model used by the Galactic Empire. Among the B1 series there existed the Specialist Droids, which were B1s with red markings used as snipers and security droids.
Appearances
Edit
Non-canon appearances
Edit
Ad blocker interference detected!
Wikia is a free-to-use site that makes money from advertising. We have a modified experience for viewers using ad blockers

Wikia is not accessible if you've made further modifications. Remove the custom ad blocker rule(s) and the page will load as expected.