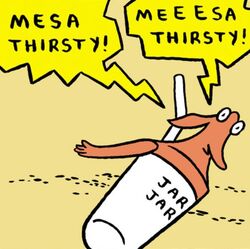 The commemorative drinking cup of Gungan Senator Jar Jar Binks was sold on Tatooine. It is unknown if more than one exemplar existed. The cup would constantly play pre-recorded audio of Senator Binks. It had at least three different sound clips:
"Mesa thirsty!"
"Meeesa thirsty!"
"How wude!"
Senator Binks incident
Edit
When Melvin Fett accepted a bounty on Jar Jar Binks to gain respect from the other bounty hunters, he went to Tatooine and he thought the cup filled with soda was the Gungan senator.
Appearances
Edit
Ad blocker interference detected!
Wikia is a free-to-use site that makes money from advertising. We have a modified experience for viewers using ad blockers

Wikia is not accessible if you've made further modifications. Remove the custom ad blocker rule(s) and the page will load as expected.