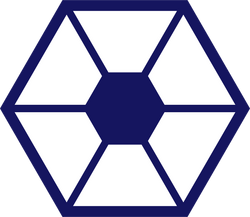 The Separatist hex icon was the symbol used by the Confederacy of Independent Systems during the Clone Wars.[1] It was a hexagon with dark blue outlines resting on one of its bases, dissected into six triangles, and containing a smaller hexagon at its heart.[2] The final version of "Report Sedition", a work of propaganda made by Chrigeld Tinnine for the Galactic Empire, depicted the arrestation of a man who had just defaced an Imperial crest on a wall and painted a Separatist hex icon below it.[1]
Appearances
Edit
Notes and references
Edit
Ad blocker interference detected!
Wikia is a free-to-use site that makes money from advertising. We have a modified experience for viewers using ad blockers

Wikia is not accessible if you've made further modifications. Remove the custom ad blocker rule(s) and the page will load as expected.