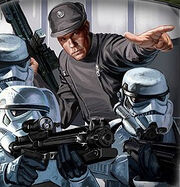 In planet-based military organizations, a sergeant was a non-commissioned officer ranking above a corporal and below a Warrant Officer. Sergeants served as squad leaders, or as assistants to commissioned officers commanding larger units and formations. Sergeants formed the backbone of the Imperial Army. The rank of sergeant was also a part of the Sith army in the New Sith Wars. Darth Bane was once a sergeant. In the ranks of the Mandalorian Protectors, the rank of sergeant was called ruus'alor.
The rank could and would also be utilized by members of a law enforcement agency.[1]
Appearances
Edit
Notes and references
Edit
External links
Edit
Ad blocker interference detected!
Wikia is a free-to-use site that makes money from advertising. We have a modified experience for viewers using ad blockers

Wikia is not accessible if you've made further modifications. Remove the custom ad blocker rule(s) and the page will load as expected.