Shadows of the Empire: Evolution 2 was the second issue in the Shadows of the Empire: Evolution series of comics, a sequel to Shadows of the Empire and was released on March 11, 1998 by Dark Horse Comics.
Publisher's summary
Edit
Human replica droid Guri continues her quest to discover just how Human she really is. She braves the dangers of the tropical planet Murninkam looking for the surgical droid known as Doc, who has been abducted by Spinda Caveel, a brilliant but more-than-slightly mad scientist, and his deadly cohorts, the Pikkel Sisters. Meanwhile, bounty hunter Kar Yang is hot on the trail of Guri at the request of the shadowy Azool, who wants Guri for reasons that will finally become clear in this issue. A comic-book sequel to the best-selling Star Wars: Shadows of the Empire, written by Shadows novelist Steve Perry.
Appearances
Edit
By type
| | | | | |
| --- | --- | --- | --- | --- |
| Characters | Creatures | Droid models | Events | Locations |
| Organizations and titles | Sentient species | Vehicles and vessels | Weapons and technology | Miscellanea |
Collections
Edit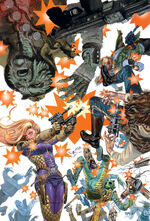 Bibliography
Edit
Ad blocker interference detected!
Wikia is a free-to-use site that makes money from advertising. We have a modified experience for viewers using ad blockers

Wikia is not accessible if you've made further modifications. Remove the custom ad blocker rule(s) and the page will load as expected.