Shadows of the Empire: Evolution 3 was the third issue in the Shadows of the Empire: Evolution series of comics, a sequel to Shadows of the Empire and was released on April 8, 1998 by Dark Horse Comics.
Publisher's summary
Edit
Human replica droid Guri has located the only one potentially capable of altering her assassin-driven programming, the surgical droid known as Doc. But now she's being pursued by a bounty hunter, Kar Yang. Savan, working in disguise as a Human female, is trying to secure her hold on the Black Sun organization -- and realizes that Guri is the key. Luke, Han, and Leia, who are meeting with Savan on Coruscant in order to work out a peaceful end to the tumultuous turnover in Black Sun, have no idea who she really is, though.
Appearances
Edit
By type
| | | | | |
| --- | --- | --- | --- | --- |
| Characters | Creatures | Droid models | Events | Locations |
| Organizations and titles | Sentient species | Vehicles and vessels | Weapons and technology | Miscellanea |
Collections
Edit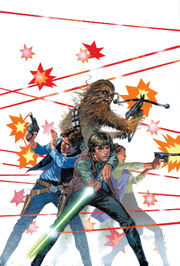 Bibliography
Edit
Ad blocker interference detected!
Wikia is a free-to-use site that makes money from advertising. We have a modified experience for viewers using ad blockers

Wikia is not accessible if you've made further modifications. Remove the custom ad blocker rule(s) and the page will load as expected.