Shea Standefer is an artist who has worked on several Star Wars sketch card sets for Topps. Her past works include Star Wars Galaxy Series 5 and 6, The Empire Strikes Back: 3-D and Rise of the Bounty Hunters.
She is also a hobby costumer and has made several Star Wars costumes. Jaina Solo is her favorite Star Wars character.
Standefer's likeness was used for the characters Scarlet Hark from the novel Honor Among Thieves and Shaylai Veila from Dark Times: A Spark Remains.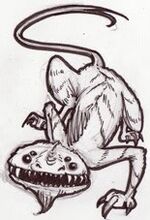 Ad blocker interference detected!
Wikia is a free-to-use site that makes money from advertising. We have a modified experience for viewers using ad blockers

Wikia is not accessible if you've made further modifications. Remove the custom ad blocker rule(s) and the page will load as expected.