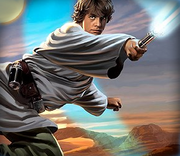 In lightsaber combat, shun was a 360-degree turn performed with just a one-handed grip, thus gaining speed for an attack.
Darth Vader used this move on the Bellassan insurgent Roan Lands, fatally wounding him in the process.
Appearances
Edit
Ad blocker interference detected!
Wikia is a free-to-use site that makes money from advertising. We have a modified experience for viewers using ad blockers

Wikia is not accessible if you've made further modifications. Remove the custom ad blocker rule(s) and the page will load as expected.