Ad blocker interference detected!
Wikia is a free-to-use site that makes money from advertising. We have a modified experience for viewers using ad blockers

Wikia is not accessible if you've made further modifications. Remove the custom ad blocker rule(s) and the page will load as expected.
Sideshow Collectibles is California-based toy company that makes licensed action figures and movie collectibles. In 2004 they made an agreement with Lucasfilm to produce Star Wars merchandise,[1] which over the years has taken the form of 12-inch figures, premium-format figures, life-size collectibles, and dioramas.
Often the figures come in a regular and exclusive version, the exclusive version containing different or new accessories from the regular, and only available for purchase online through Sideshow or at various conventions.
12-Inch Figures
Edit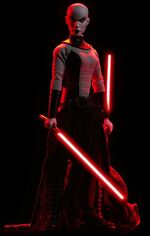 12-Inch Figure Environments
Edit
Han Solo in Carbonite
Jabba's Throne Environment
12-Inch Figure Expansion Packs
Edit
Premium Format Figures
Edit
Anakin Skywalker
Asajj Ventress
Darth Maul
Darth Vader
Han Solo
Han Solo - Rebel Hero
Luke Skywalker
Obi-Wan Kenobi
Princess Leia
Life-Size Busts
Edit
Sixth Scale Figures
Edit
Darth Malgus
Darth Vader Deluxe
Boba Fett (Prototype Armor)
S.T.A.P. and Battle Droid
Snowtrooper
Tusken Raider
General Grievous
Yoda
Luke Skywalker
Dewback
Bossk
Commander Neyo
Clone Troopers Echo and Fives
Security Battle Droids
Wolffe
Darth Maul
Royal Guard
Jango Fett- 2nd Jetpack version
Boba Fett- ROTJ version
Clone Trooper Deluxe: 501st
Clone Trooper Deluxe: 212th
Clone Trooper Deluxe: Veteran
Clone Trooper Deluxe: 104th
Mos Eisley Cantina- Band Nook
Commander Bacara
Tedn D'hai and Nalan Cheel
TIE Fighter Pilot
4-LOM
C-3PO
R5-D4
Commander Cody
Life-Size Figures
Edit
Bibliography
Edit
Notes and references
Edit
External links
Edit