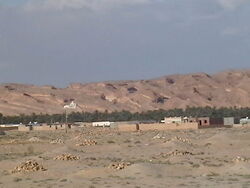 Sidi Bouhlel (Arabic: سيدى بحلال) is a marabout in south west Tunisia near to the town Tozeur.
Jundland Wastes on Tatooine shots for A New Hope and The Phantom Menace were taken in a nearby canyon commonly known as the Star Wars canyon. It was also used for filming Raiders of the Lost Ark and The English Patient.
External links
Edit
Ad blocker interference detected!
Wikia is a free-to-use site that makes money from advertising. We have a modified experience for viewers using ad blockers

Wikia is not accessible if you've made further modifications. Remove the custom ad blocker rule(s) and the page will load as expected.