Silooth
Talk

0
107,692pages on
this wiki
Silooth
Biological classification
Designation
Physical characteristics
Distinctions
Sociocultural characteristics
Homeworld
Silooths were large, armored beetle-like creatures mutated by the Sith to the size of a bantha or larger. The Sith Empire first utilized them at the Battle of Kalsunor. Originally no bigger than womprats, the silooths were altered both physically and psychologically through the use of Sith alchemy.
The silooths were covered in segmented chitin plates which functioned as natural armor. They each had eight legs with razor-sharp claws and loud, powerful mandibles capable of crushing their victims. They were imbued with the dark side of the Force, carrying great anger and ferocity with them. Silooths attacked anything that came near them, refusing to stop until either they or their victim were dead. The silooths had very good low-light vision but could not see beyond ten meters ahead of them. They could shoot deadly acid from their mandibles as far as ten meters.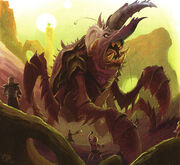 These beasts were dropped on the planet Kalsunor, where they wreaked havoc on the population which resisted Sith conquest for a long time. They caused chaos and destruction, breaking down the Kalsunorian defenses and allowing the Sith warriors swarm in to finish the battle. After the battle, the silooths were left on Kalsunor and continued to prey on whatever lifeforms they could find. Some larger, rage-filled silooths were thought to have remained hidden in the deep canyons of the planet. Some Sith holocrons contained the secrets to silooth mutation, and several silooths were known to have been in the service of Sith Lords throughout the days of the Sith Empire. However, Kalsunor was the only documented large-scale use of silooths, and afterward even the Sith Lords had trouble controlling their ferocity. In the end, these monsters and all the research and knowledge for making them were lost.