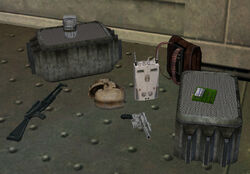 "R2-D2 says that Simo Oron, the captured spy, has been rescued. With your return of his contact list to Bertos Goodner, this operation has been a rousing success."
―C-3PO
Simo Oron was a male Rebel spy who lived during the Galactic Civil War. He was captured by the Galactic Empire, but was later rescued and transferred off Naboo.
Appearances
Edit
Ad blocker interference detected!
Wikia is a free-to-use site that makes money from advertising. We have a modified experience for viewers using ad blockers

Wikia is not accessible if you've made further modifications. Remove the custom ad blocker rule(s) and the page will load as expected.