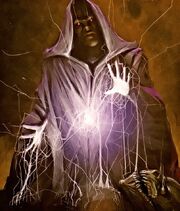 "Freedon Nadd said that Naga Sadow was a Sith alchemist…he knew secrets beyond the powers of the Jedi."
A Sith alchemist was a practitioner of Sith alchemy. Those who used it relied on Sith magic to make all sorts of creations of the dark side, such as the Mask technique and Sithspawn. Famous alchemists include Darth Plagueis and his apprentice Darth Sidious; Plagueis for his ability to manipulate midi-chlorians and Sidious for writing the Dark Side Compendium.
Appearances
Edit
Ad blocker interference detected!
Wikia is a free-to-use site that makes money from advertising. We have a modified experience for viewers using ad blockers

Wikia is not accessible if you've made further modifications. Remove the custom ad blocker rule(s) and the page will load as expected.