Ad blocker interference detected!
Wikia is a free-to-use site that makes money from advertising. We have a modified experience for viewers using ad blockers

Wikia is not accessible if you've made further modifications. Remove the custom ad blocker rule(s) and the page will load as expected.
"It is your duty to learn what I know. It is my duty to learn what there is to teach."
―Darth Sidious, to his apprentice Darth Vader
A Sith apprentice was an individual (and on occasion, a child) chosen by a Sith Master to be their successor. They were known to take on their own apprentices in an effort to overthrow their master. Savage Opress had two different masters - Tyranus and Maul - due to the Sith's in-fighting during the Clone Wars.
Apprentices
Edit
Following the infighting among the Sith, the surviving Sith Lord, Darth Bane, created the Rule of Two, stating that there shall only be two; a master to embody the power and an apprentice to crave it.[3] Darth Bane then took an apprentice, who was able to evade the Jedi when they killed Bane.[10] His apprentice carried out the tradition in secret from the Jedi for over a millennium.[5]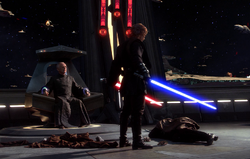 Sometime before the Invasion of Naboo, the Sith Lord Darth Plagueis took Sheev Palpatine as his apprentice dubbing him "Darth Sidious". Together, they worked on trying to unlock the secrets of immortality[11] and to rule the galaxy by rebuilding a Sith Empire.[12] However, Sidious learned everything he needed from Plagueis[4] and obtained his own apprentice, Maul, son of Nightsister, Mother Talzin.[13] Sidious then killed Plagueis in his sleep,[4] becoming the master.[11]
Sidious then officially took Maul as his apprentice, dubbing him Darth Maul. During a mission on Naboo, Maul was then seemingly killed by Jedi Padawan Obi-Wan Kenobi,[5] but survived.[14] Sidious abandoned him and in the years leading up to the Separatist Crisis, took former Jedi Master, Dooku, as his new apprentice. Dooku was then named "Darth Tyranus". As Tyranus, Dooku swayed thousands of systems to his cause, forming them into the Confederacy of Independent Systems. He also took charge of Jedi Sifo-Dyas's clone army, and eliminating him.[15] Tyranus also recruited the bounty hunter, Jango Fett on one of the moons of Bogden to be the clone template. Around this time Dooku erased the data on Kamino from the Jedi Archives. Tyranus also ensured that Sidious received the plans to the ultimate weapon and the War would begin according to his master's wishes.[6]
For three years, Tyranus led the Confederacy against the Republic. During this time, Tyranus then recruited Dathomirian/Rattaki warlord and former Jedi Padawan Asajj Ventress as his assassin and secretly as a Sith apprentice.[7] Despite proving herself worthy of being his apprentice,[16] Sidious was disturbed by how she was becoming more powerful. Thus, Sidious ordered Tyranus to eliminate her. Tyranus had little choice but to have Ventress marked for death during the Battle of Sullust.[7]
However, Ventress survived her master's treachery and returned to her home world of Dathomir. There she and Talzin's Nightsisters helped her in her quest for vengeance by attempting an assassination attempt on Tyranus. However the initial attempt failed but Talzin created a different plan by offering Tyranus a new apprentice; a Nightbrother whom she and Ventress could control.[7] Dooku then accepted the Nightbrother, Savage Opress as his new assassin. After Opress's victory over the Jedi, Tyranus foresaw that they would be more powerful than Lord Sidious.[8] Tyranus then trained Opress in the ways of the Force. However, Tyranus ended Opress's apprenticeship when he failed to bring King Katuunko to him alive and revealed himself to be loyal to Ventress. In the course of the following battle, Opress then turned on both them, was forced to leave and returned home. Ventress was then forced to leave too. Once there, Talzin gave Savage Opress a new quest; to find his last surviving brother.[14]
Appearances
Edit
Non-Canon Appearances
Notes and references
Edit
↑  Darth Bane in the Encyclopedia (link now obsolete; backup link on Archive.org)
↑  Darth Sidious in the Encyclopedia (link now obsolete; backup link on Archive.org)