"Skywalkers" is a 40-page comic featured in Clone Wars Adventures: Volume 2. It was written by Haden Blackman, with George Lucas credited for dialogue taken from A New Hope. The art was by the Fillbach Brothers. Wil Glass provided the coloring. Michael David Thomas is responsible for the lettering.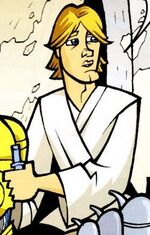 On Tatooine, in the year 0 BBY, Luke Skywalker asks Obi-Wan Kenobi about his father. Obi-Wan has a flashback to the Battle of Terra Sool, during the Clone Wars, many years previous. Anakin Skywalker and Obi-Wan were helping the Terra Sool militia to overthrow the Separatist occupation. When the CIS attempted to BDZ the planet, Anakin destroyed the missiles and Obi-Wan remarked that the learner had become the master. The story returns to the 'present', where, onboard the Death Star I, Darth Vader looks down upon the clothes that he believes are all that remain of his former master.
Appearances
Edit
Characters
Creatures
Droid models
Events
Locations
Organizations and titles
Sentient species
Vehicles and vessels
Weapons and technology
Miscellanea
Ad blocker interference detected!
Wikia is a free-to-use site that makes money from advertising. We have a modified experience for viewers using ad blockers

Wikia is not accessible if you've made further modifications. Remove the custom ad blocker rule(s) and the page will load as expected.