The sling was a primitive weapon that hurled metal bullets or stones. Usually, they were made of leather and cord. The Ewoks were known to use these, and one user was female Ewok warrior Asha. Treek, another Ewok, employed slings to shoot the healing substance fektur at friendlies.
A Stereb in Prak City named Herdr'tui also used a sling.[3]
The semi-sentient Dathomiri rancors were able to make and use simple tools, including slings.[4]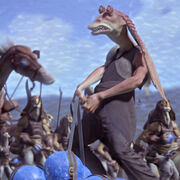 In addition, Gungans used slings to propel medium-sized boomas too large to fit into cestas and atlatls, and too small for catapults, as seen during the Battle of Naboo.
Appearances
Edit
Notes and references
Edit
External links
Edit
Ad blocker interference detected!
Wikia is a free-to-use site that makes money from advertising. We have a modified experience for viewers using ad blockers

Wikia is not accessible if you've made further modifications. Remove the custom ad blocker rule(s) and the page will load as expected.