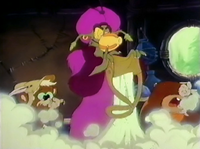 Smoke powder was a substance used by the Dulok shaman Umwak to fill an area with sight-obscuring powder and allow him to operate unseen. Umwak used smoke powder to keep the Ewoks Teebo and Wicket W. Warrick from seeing him steal a potion from the Ewok shaman Logray's hut in Bright Tree Village when the Dulok was impersonating a Tulgah trader.
Appearances
Edit
Ad blocker interference detected!
Wikia is a free-to-use site that makes money from advertising. We have a modified experience for viewers using ad blockers

Wikia is not accessible if you've made further modifications. Remove the custom ad blocker rule(s) and the page will load as expected.