Soldier
Talk

2
103,468pages on
this wiki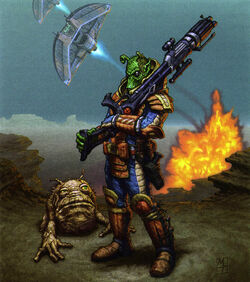 "A good soldier always knows how to use whatever equipment is at hand: computers, droids, vehicles, communications gear, and - of course - weapons. Knowing what a weapon is capable of - and more importantly, what it isn't capable of - can save your life in a tough situation."
―Colonel Marck Linth, Alliance SpecForces (5th Regiment).
Soldiers were individuals trained in a variety of martial skills. These individuals fought for a variety of reasons (conscripts or mercenaries) and used a wide range of weaponry and combat tactics. A soldier was the lowest of infantry ranks. Spacefaring soldiers were known as star-warriors.
Behind the scenes
Edit
Soldier is a playable starting class for the video game Star Wars: Knights of the Old Republic.
Appearances
Edit