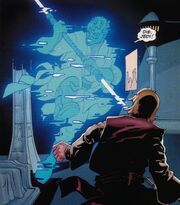 A solid-state hologram was a hologram that utilized a low level energy field to contain a high level of extremely dense photons, resulting in "solid light" that could have direct interaction with material objects.
Darth Maul was resuscitated as a solid-state hologram, and continued to exist as an apparition on Iridonia, terrorizing its inhabitants with sporadic appearances.
Appearances
Edit
Ad blocker interference detected!
Wikia is a free-to-use site that makes money from advertising. We have a modified experience for viewers using ad blockers

Wikia is not accessible if you've made further modifications. Remove the custom ad blocker rule(s) and the page will load as expected.