The Solleu River, or River Solleu, was a large river which ran through Naboo's capital city of Theed. Fed by underground tributaries that flowed from the planet core, Theed was mainly an island that rested in the rivers grasp. The mighty river, adored by both Gungans and the Naboo, ended in Theed at Virdugo Plunge, the largest waterfall in the city. The Funeral Temple crossed the river, which was incorporated into a tradition where the ashes of the dead would be deposited into the river.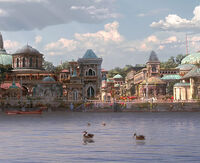 Appearances
Edit
Ad blocker interference detected!
Wikia is a free-to-use site that makes money from advertising. We have a modified experience for viewers using ad blockers

Wikia is not accessible if you've made further modifications. Remove the custom ad blocker rule(s) and the page will load as expected.