"There's always a bigger fish."
―Qui-Gon Jinn
Fish were water-dwelling creatures that came in many varieties throughout the galaxy.
Types of fish ranged from the goldie, harmless peaceful fish sometimes used to create a peaceful atmosphere in a room, to the vicious eel known as the colo claw fish, one of the most vicious predators of the seas of Naboo.
Appearances
Edit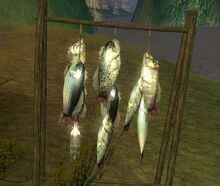 Ad blocker interference detected!
Wikia is a free-to-use site that makes money from advertising. We have a modified experience for viewers using ad blockers

Wikia is not accessible if you've made further modifications. Remove the custom ad blocker rule(s) and the page will load as expected.