Sonic pistol
Talk

0
107,654pages on
this wiki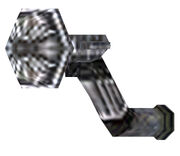 Sonic pistols were ranged weapons similar to blaster pistols, that created a high-intensity sonic blast powerful enough to shatter solid objects and cause devastating injuries to sentients.
Designed as civilian's response to Jedi and Sith using lightsabers to deflect their attacks, the sonic pistol fired compressed bolts of pure sound at its target. Though slightly less powerful than standard energy weapons such as blasters and pulse-wave weapons, the sonic pistol was particularly effective against Jedi and Sith because the weapon's sonic bolt bent around the lightsaber, striking the target despite the intervention of the lightsaber's energy blade.
Sonic pistols commonly featured both blast and stun settings, the latter producing a wide-dispersal cone of sonic energy designed to disrupt equilibrium and cause unconsciousness. The regular blast setting produced a "bolt" of condensed sonic energy capable of shattering solid objects and armor, as well as breaking bones and bursting flesh. Sonic pistols commonly had short ranges, most effective up to only thirty or forty meters.
Larger variants, known as sonic blasters, were also produced. A notable model was the Geonosian sonic blaster that operated on similar principles to the pistol.
Notable models
Edit