Soniee
Talk

1
107,708pages on
this wiki
Soniee
Biographical information
Homeworld
Physical description
Species
Gender
Height

1.63 meters

Hair color

Brown

Eye color

Green

Skin color

Fair

Chronological and political information
Era(s)
Affiliation
Soniee was a female Human student who attended at the Royal Academy of Government on Mandalore during the Clone Wars. She loved technology, so she always carried a display visor, a datapad, and a holocam.
Biography
Edit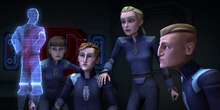 Soniee was one of the Royal Academy of Government students that helped root out corruption in the Mandalorian government. After being instructed on the dangers of corruption in government by Ahsoka Tano, the students broke into the warehouse that contained the food rations to discover that there was no food shortage like they had been told. While they were there they witnessed and recorded a black market deal being made by a government official. After recording the deal they were discovered but escaped capture. After they unwittingly confessed to Tano what they had done, they took the evidence to Duchess Satine Kryze hoping she would stop the corruption, only to be warned not to get involved and that Satine would handle it. This led to the children contacting Prime Minister Almec and informing him of their discovery.
After arranging a meeting, Almec attempted to have the children captured because it was he whom they had witnessed making the deal. After being saved by Tano, they soon discovered the deception and went to inform Satine, only to discover she had been captured. In the hopes of discovering Satine's location, Tano handed over the group of students to Almec, who would not reveal the location of Satine. After speaking with Tano, the students waited while she attempted to find and rescue Satine. While waiting, they were taken to a room where Satine and Tano were captured, where Almec had hoped to use the children to force Satine into signing a confession of treason. It was soon after Tano escaped and managed to free the children, who aided in the capture of Almec and the removal of a source of corruption in the Mandalore government.[1]
In 20 BBY, the Shadow Collective took over Mandalore under the leadership of Pre Vizsla and Darth Maul. Soniee and her friends, Lagos and Amis, assisted Korkie Kryze and Bo-Katan and the Nite Owls in rescuing Satine, who had been imprisoned in the Sundari prison. Soniee flew a Mandalorian speeder bike to escort the Duchess as they were pursued by Mandalorian super commandos. They were able to get Satine out of Sundari so that she could send send a message for help to Obi-Wan Kenobi. Unfortunately, Satine was recaptured, but Soniee and the other students managed to escape the Mandalorian super commandos during the Battle of Sundari.[2]
Behind the scenes
Edit
Soniee is portrayed by voice actress Ashley Moynihan.[1]
Appearances
Edit
Notes and references
Edit