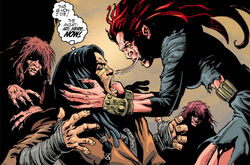 "The blend of what you are and what you will be."
"Soup" was the term Anzati used for the brain matter and mental essence of sentient species, which they consumed as food. The concept of the soup was developed from early Anzati legends about the aurora that surrounded their homeworld, which they believed to be the life forces of their ancestors.
Appearances
Edit
Ad blocker interference detected!
Wikia is a free-to-use site that makes money from advertising. We have a modified experience for viewers using ad blockers

Wikia is not accessible if you've made further modifications. Remove the custom ad blocker rule(s) and the page will load as expected.