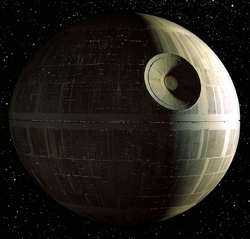 "That's no moon. It's a space station."
―Obi-Wan Kenobi, upon viewing the Death Star
Space stations were structures built by sentient beings in orbit of planets or in deep space. The Death Star and Death Star II, constructed by the Galactic Empire, were a type of space station known as a battle station.[1][2]
Appearances
Edit
Star Wars: Galactic Defense (Picture only)
Star Wars: Episode II Attack of the Clones (Appears in hologram)
Star Wars: The Clone Wars – "Destroy Malevolence" (Appears in flashback(s))
Star Wars: The Clone Wars – "Conspiracy" (Appears in flashback(s))
Star Wars: The Clone Wars – "Orders" (Appears in flashback(s))
Darth Vader: Dark Lord of the Sith 3: The Chosen One, Part III (Mentioned only; in the opening crawl)
Darth Vader: Dark Lord of the Sith 13: Burning Seas, Part I (Mentioned only)
Adventures in Wild Space: The Cold (Mentioned only)
Servants of the Empire: Rebel in the Ranks (Mentioned only)
Star Wars Rebels – "Ghosts of Geonosis" (Appears in drawing)
Star Wars: Episode IV A New Hope (First appearance)
Escape from Darth Vader (Cover and final-page illustration only)
"Stories in the Sand"—From a Certain Point of View (Appears in hologram)
"Duty Roster"—From a Certain Point of View (Mentioned only)
"Grounded"—From a Certain Point of View (Mentioned only)
"Contingency Plan"—From a Certain Point of View (Mentioned only)
"The Angle"—From a Certain Point of View (Appears in hologram)
"By Whatever Sun"—From a Certain Point of View (Indirect mention only)
Princess Leia, Part II (Indirect mention only)
Star Wars 2: Skywalker Strikes, Part II (Indirect mention only)
Darth Vader 1: Vader (Appears in flashback(s))
Star Wars 4: Skywalker Strikes, Part IV (Indirect mention only)
Darth Vader 6: Vader, Part VI (Appears in flashback(s))
Darth Vader 7: Shadows and Secrets, Part I (Indirect mention only)
Darth Vader 8: Shadows and Secrets, Part II (Appears in hologram)
Darth Vader 25: End of Games, Part VI (Cover only)
Doctor Aphra 1: Aphra, Part I (Mentioned only)
Doctor Aphra 2: Aphra, Part II (Appears in flashback(s))
Doctor Aphra 3: Aphra, Part III (Mentioned only)
Doctor Aphra 16: Remastered, Part III (ship's display only)
Star Wars: Commander (Mentioned only)
 "The Trouble at Tibrin"—Star Wars Adventures 4 (Mentioned only)
Battlefront: Twilight Company (Mentioned only)
The Empire Strikes Back: So You Want to Be a Jedi? (Mentioned only)
Star Wars: The Empire Strikes Back junior novelization (Mentioned only)
Aftermath (Appears in flashback(s))
Star Wars: Uprising (Appears in hologram)
Aftermath: Life Debt (Wreckage only)
Aftermath: Empire's End (Appears in flashback(s))
"All Creatures Great and Small" (Mentioned only)
Poe Dameron 9: The Gathering Storm, Part II (Appears in flashback(s))
Star Wars: Episode VII The Force Awakens (Appears in hologram)
Star Wars: The Force Awakens novelization (Appears in hologram)
Star Wars: The Force Awakens: A Junior Novel (Appears in hologram)
The Force Awakens (Golden Book) (Picture only)
The Force Awakens, Part V (Appears in hologram)
 ""—Star Wars Adventures Ashcan (Appears in flashback(s))
"Hear Nothing, See Nothing, Say Nothing"—Canto Bight (Wreckage only)
"Whills"—From a Certain Point of View (Mentioned only)
Non-canon appearances
Edit
Notes and references
Edit