Special Enforcement Officer
Talk

0
107,638pages on
this wiki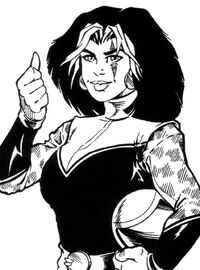 Special Enforcement Officers or SEOs were elite members of the law enforcing Sector Rangers. Thus the best of the Sector Rangers were typically promoted to these posts that had wider arrest and detention powers which allowed them to cross sector boundaries in pursuit of a criminal. SEOs might operate far from their nominal headquarters[1], while common Rangers had to coordinate with the foreign branch once they wanted to investigate outside of their sector.[2]
Many SEOs went about their duties undercover, making possible to infiltrate the underworld and approach a delinquent, like Narra Mesyne who personated a swoop racer called Miraj. SEOs also often specialized in anti-terrorist operations, hostage rescue and counter-espionage efforts. Because of their expanded jurisdiction, Special Enforcement Officers would sometimes lead teams of other Rangers dedicated to one or more of these particular types of crimes.[3]
Sometimes these higher ranking Rangers rubbed the regular ones the wrong way when the SEO used his position took over a Ranger's investigations or pulled him off of his case to assist the SEO's own. Nethertheless, most Special Enforcement Officers were held in regard and represented the ultimate goal for a Sector Ranger to eventually attain through years of service.[4]
It was known that SEOs often worked alongside Jedi, although most of them chafed at the Jedi's dwelling of the Force or refusal to get involved in certain types of cases.[4]
Because of his adventure possibilities many holodramas featured a SEO pursuing an adversary across the length and the breadth of the galaxy, perhaps driven by a personal involvement in the crime, or the fulfillment of some private passion.[1][3]
Notable officers
Edit
Notes and references
Edit