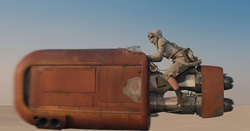 Speeders, or hovercraft[1], referred to any repulsorlift vehicles designed for speed:
Translations
Edit
In the Italian editions of the original and prequel trilogies and other earlier works, the term "speeder" was changed to "sprinter", because, in the 70s, many Italian people doesn't speech English.
Appearances
Edit
Notes and references
Edit
Ad blocker interference detected!
Wikia is a free-to-use site that makes money from advertising. We have a modified experience for viewers using ad blockers

Wikia is not accessible if you've made further modifications. Remove the custom ad blocker rule(s) and the page will load as expected.