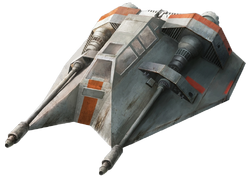 A speeder was a generic term that encompassed any number of hovering high-speed ground vehicles that used anti-gravity repulsorlift technology and operated within a planet's atmosphere. Examples included landspeeders such as the XP-38 sport landspeeder; the term also applied to airspeeders, which were not strictly repulsorcraft as they did not hover above the ground.[1] Some speeders had afterburners that enabled high-speed flight.[2] Airspeeders were able to fly at altitudes higher than landspeeders, some reaching heights of more than 250 kilometers.[3]
Appearances
Edit
Notes and references
Edit
Ad blocker interference detected!
Wikia is a free-to-use site that makes money from advertising. We have a modified experience for viewers using ad blockers

Wikia is not accessible if you've made further modifications. Remove the custom ad blocker rule(s) and the page will load as expected.