The Great Spirit Tree, also called the Great Tree or Spirit Tree, was an ancient tree on the forest moon of Endor which was sacred to the local Ewoks. They believed that they were all descended from the Great Tree. It was also believed that all life eventually returned to the Spirit Tree.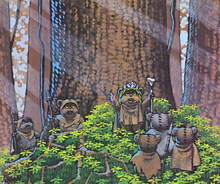 Appearances
Edit
Ad blocker interference detected!
Wikia is a free-to-use site that makes money from advertising. We have a modified experience for viewers using ad blockers

Wikia is not accessible if you've made further modifications. Remove the custom ad blocker rule(s) and the page will load as expected.