Publisher's summary
Edit
Deep in the swamplands of the planet Mimban lies a powerful crystal, capable of giving its possessor an invincible mastery of the Force. In the right hands, it could save the galaxy. In the wrong hands, it could destroy it! While the explosion of the first Death Star still reverberates through the cosmos, Luke and Leia find that the war they thought they won was only a battle and that the dark side of the Force still stalks the galaxy.
Collected issues
Edit
External links
Edit
http://www.darkhorse.com/profile/profile.php?sku=46-552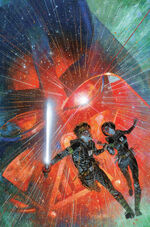 Ad blocker interference detected!
Wikia is a free-to-use site that makes money from advertising. We have a modified experience for viewers using ad blockers

Wikia is not accessible if you've made further modifications. Remove the custom ad blocker rule(s) and the page will load as expected.