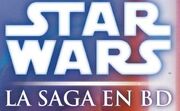 Star Wars : la saga en BD (French: Star Wars: the Saga in Comic) is a French bimonthly that has been published by Delcourt in France and Belgium since May 2006 to November 2012. Each issue consists of 80 pages filled with comic tales. Together with the German Star Wars (Panini) and Polish Star Wars Komiks (Egmont) it forms one of the most prolific non-English Star Wars-concerned magazines.
The first two issues were labeled Star Wars BD magazine, yet the redactor Thierry Mornet deemed the name too confusing and had it altered beginning with the third issue. Once for several months hors-série (ocassionals) are published.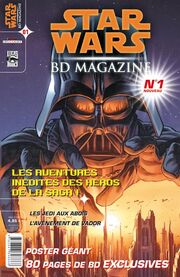 Ad blocker interference detected!
Wikia is a free-to-use site that makes money from advertising. We have a modified experience for viewers using ad blockers

Wikia is not accessible if you've made further modifications. Remove the custom ad blocker rule(s) and the page will load as expected.