Star Wars: 30th Anniversary Collection Volume 12: Legacy is the twelfth and final of the Star Wars: 30th Anniversary Collection TPBs, released on February 6, 2008. It is a hardcover version of issues from Star Wars: Legacy.
Publisher's summary
Edit
More than a hundred years have passed since the events in Return of the Jedi and the days of the New Jedi Order. There is a new evil gripping the galaxy, shattering a resurgent Empire and seeking to destroy the last of the Jedi. Even as their power is failing, the Jedi hold to one final hope—the last remaining heir to the Skywalker legacy!
Collected issues
Edit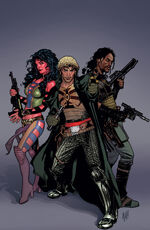 Ad blocker interference detected!
Wikia is a free-to-use site that makes money from advertising. We have a modified experience for viewers using ad blockers

Wikia is not accessible if you've made further modifications. Remove the custom ad blocker rule(s) and the page will load as expected.